PuroClean Classic Chamber Golf Tournament 2022
Friday, December 9, 2022 (11:00 AM - 6:00 PM) (EST)
Description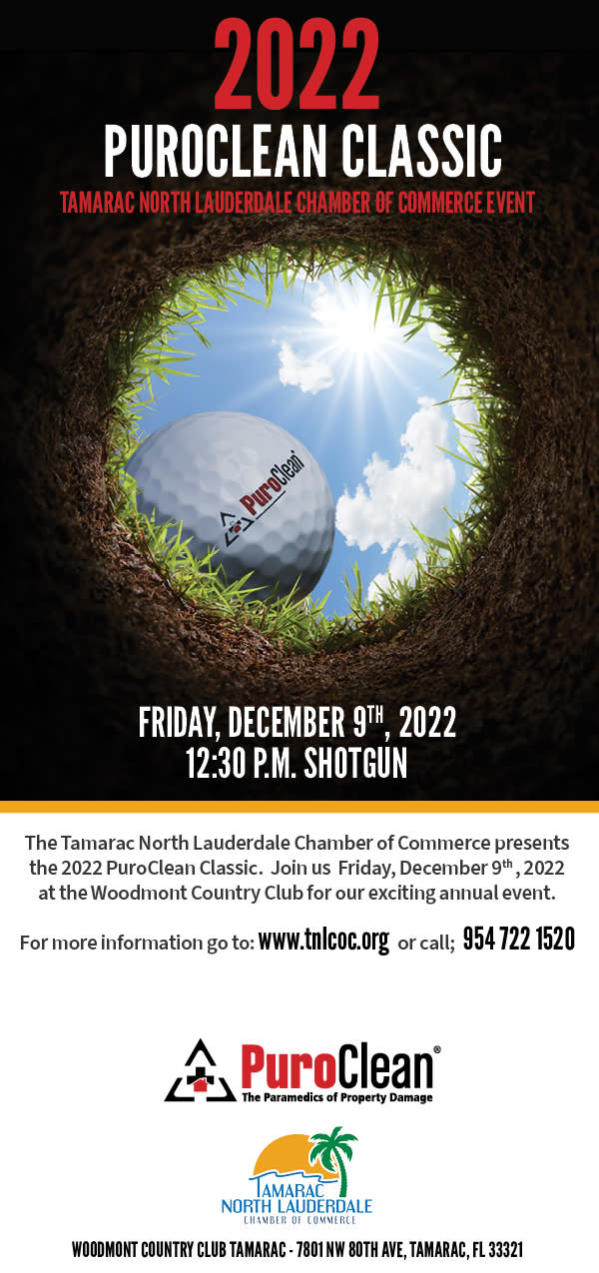 The PuroClean Classic is back Friday December 9th 12:30pm shotgun at Woodmont Country Club 7801 NW 80th Ave, Tamarac, FL 33321.
We are expecting a high turnout do not register too late avoid disappointment (sell out expected). Early bird incentive to commit.
Returning sponsors - PuroClean, Demesin & Dover, County Line Chiropractic, F.P.L, Star of David/Bailey Memorial, Richline Group, 5 Star Park Summit
Take a look at last year https://www.facebook.com/media/set/?set=a.280997974067322&type=3
2021 Recap
TAMARAC, Fla. – (December 20, 2021) – PuroClean, a leading restoration and remediation franchise, joined the Tamarac North Lauderdale Chamber of Commerce for the third year as Title Sponsor of its annual PuroClean Classic Golf Tournament on ­­Friday, December 3, 2021. This annual event surpassed its goal of $12,000 as the Chamber wraps up another successful tournament, giving back to the local organization in the spirit of giving during the holiday season. The Chamber's sixth annual classic was held at Woodmont Country Club in Tamarac, Florida.
"We are honored to partner with the Tamarac North Lauderdale Chamber of Commerce for this special event for another great tournament with a successful turnout," said President and COO of PuroClean, Steve White. "Supporting our Chamber of Commerce now is more important than ever, as they provide essential resources to hundreds of local businesses in the heart of our community, whose presence keeps our neighbors employed and their families well fed. We thank our sponsors for their generosity and dedication to our local businesses and know their support of our Chamber of Commerce will ripple through our community for years to come."
The 2021 PuroClean Classic saw a total of 128 players, 17 sponsors, four vendors, 20 raffle donations, and 12 silent auction items. PuroClean took the mantle as Title sponsor, led by Vice Chairman Frank Torre; Demesmin & Dover Attorneys, CountyLine Chiropractic Medical & Rehab Centers, Richline Group, Star of David, Bonefish Grill Plantation, Florida Power and Light, Park Summit Senior Living, and the Woodmont Country Club. Members of the Tamarac Fire Station 36 team, Eric Viveros, Robert Hendren, Ed Mackie, and Eddie Rogaki, were named the champions of the event, taking home the winning trophy at the end of the night. Together, participants in the tournament raised funds towards supporting the Chamber's new 501c3 Foundation educational programming and initiatives in the upcoming year.
"We are very grateful to our title sponsor PuroClean for once again supporting this amazing event that has become the most popular golf tournament in Broward ," said Peter Mason, Executive Director of the Tamarac North Lauderdale Chamber of Commerce. "We exceeded our goals this year and couldn't be more thankful to our volunteers, sponsors, and everyone who contributed to make our evening a great success."
For more than 20 years, PuroClean has helped home and business owners with their restoration and remediation needs, serving communities across the United States and Canada with a network of over 360 offices.
For more information on PuroClean, contact 800-775-7876 or visit www.PuroClean.com
Images
Woodmont Country Club
7801 NW 80th Avenue



Tamarac

,

FL

33321



Friday, December 9, 2022 (11:00 AM - 6:00 PM) (EST)
December 9th 11am registration 12:30pm shot gun start.
5:45pm to 6:45pm awards raffles, silent auctions
6:45pm PuroClean VIP After Party